Indikatorn av Ruskig 30:e – 20:e November 2015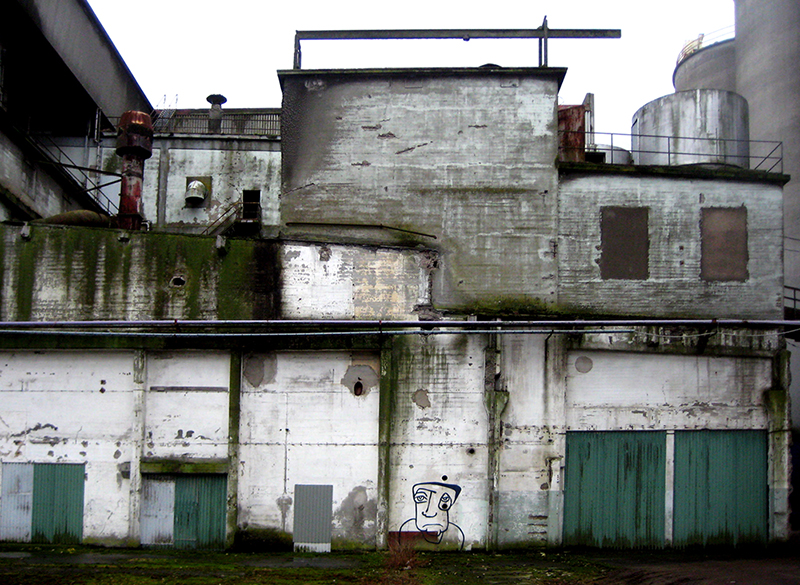 Ruskig målar en sur figur i så många olika städer, länder och miljöer som möjligt med mål att göra denna griniga figur på gott humör. Det är ingen lätt uppgift för den blir bara glad när det är rättvist och jämlikt överallt i världen. Inte minst mellan könen.
Ruskig bor och arbetar numera både i Stockholm och Malmö men började sin målerikarriär i Uppsala under 80-talet. Måleriet handlar ofta om sociala, gemensamma och livsbejakande ämnen som tex hur man hjälper folk att finna kärlek och jobb genom graffiti, eller hur riktig jämnställdhet och rättvisa uppnås i ett samhälle eller hur en stad eller plats blir trygg och säker.
Ruskigs mest sedda och spridda uppdrag är samarbetet "VillSeDig" med Posten 2008 som resulterade i världens första graffitifrimärke med en upplaga av över 4 miljoner exemplar.
Under sommaren gjordes verket Objektivitet, som är målat av tretton graffitimålare under konstnärlig ledning av Ruskig på Kolingsborg, Slussen. Verket revs under hösten för att bygga nya Slussen.
Varmt välkommen på vernissage Fredag den 30:e Oktober kl 18.00- 21.00.
Utställningen pågår t.o.m. den 20:e November 2015
HL Gallery
St: Eriksgatan 64
Stockholm
Öppet mån – fre 11:30 – 18:00, lör 11:30 – 16:00.
http://www.HLgallery.se
Ruskig:
Instagram:@ruskigstm
http://www.ruskig.org/
English:
Ruskig paint a grumpy character in so many different cities, countries and environments as possible with the goal to make this grumpy figure in a good mood. It´s not an easy task, for it is only happy when it is fair and equal in the world. Especially between the genders.
Ruskig lives and works in Stockholm and Malmö, but began his painting career in Uppsala during the 80:ies. His painting are often about social, common and life-affirming topics such as how to help people to find love and work by graffiti, or the proper observance of equality and justice is achieved in a society or how a city or place will be safe and secure.
Ruskigs most famous work is "VillSeDig". A cooperation with the Swedish Post that resulted in the world's first graffiti stamp with a circulation of over 4 million copies.
During the summer Objectivity was painted by thirteen graffiti artists under the artistic direction of Ruskig at Kolingsborg, Slussen. Its now demolished to build new Slussen.
A warm welcome to the opening on Friday, October 30 at 18.00- 21:00.
The exhibition continues until November 20, 2015
HL Gallery
St: Eriksgatan 64
Stockholm
Open Mon – Fri 11:30 – 18:00, lör 11:30 – 16:00.
http://www.HLgallery.se
Ruskig:
Instagram:@ruskigstm
http://www.ruskig.org/