OLABO · NEGATIV POSITIV, 26th of Oct – 22th of Nov 2012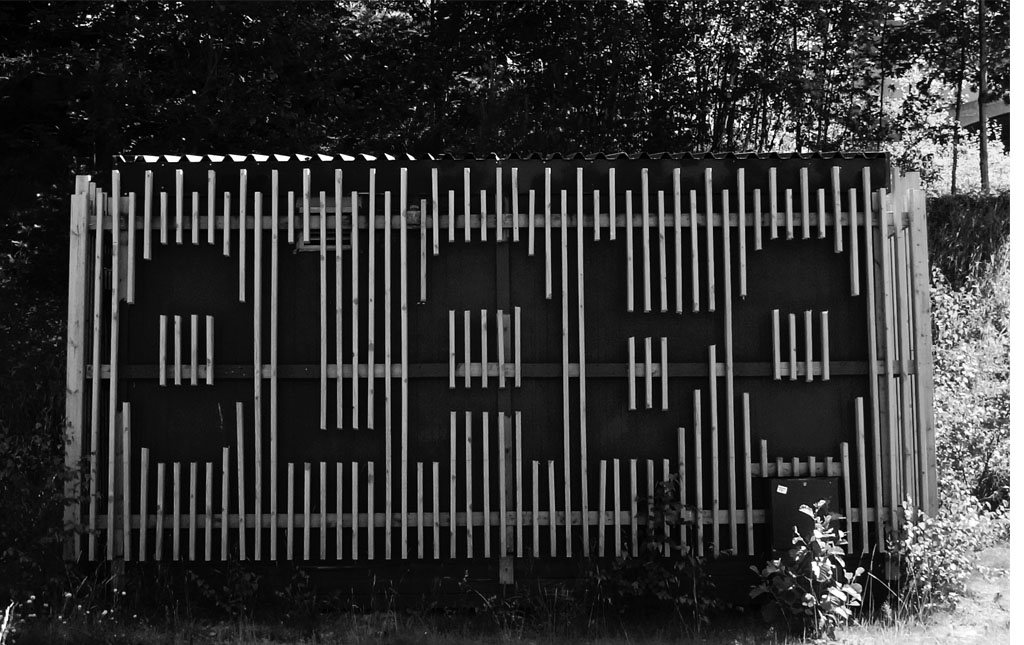 In the summer of 2011 The Hyenas at Stureplan, by Olabo, was revealed to the public. It proved to be one of the most appreciated pieces of street art in recent years. Despite this – it was removed just one week after by the city, citing their zero tolerance policy against graffiti.
Now — The artist is back! This time at HL Gallery.
The exhibition NEGATIV POSITIV is part of a larger art project of the same name.  It began in the streets in 2010 and continues within the gallery. The project is centered around the kind of latticework that appeared in the 90's in long rows along the subway. This latticework has since spread to cover many of City's smaller buildings and even to some private property.  The purpose has been to prevent the application of something visually comprehensible on the surface.
A central part of the exhibition is a limited edition stop motion book. The book will be offered at the opening for 250 SEK (afterwards it will cost 350 SEK).
You are all warmly welcomed to the opening on Friday the 26th of October! The exhibition will then go on until the 22th of November. Opening hours: Mon – Fri 11:30 – 18:00, Saturdays 11:30 – 16:00.
Curator: Kristoffer Ekman
Thanks to Grolsch.
SVENSK TEXT
Sommaren 2011 installerades Hyenorna vid Stureplan. Det skulle visa sig bli ett av de senaste årens mest uppskattade offentliga konstverk. Emellertid fick det bara vara kvar en vecka innan representanter för Stockholms stad, med hänvisning till Stadens nolltoleranspolicy mot s.k. "klotter" (samlingsbegrepp för obeställda verk i gatumiljö) avlägsnade hyenorna tidigt en morgon.
Utställningen Negativ Positiv ingår i ett längre konstprojekt med samma namn. Det påbörjades 2010 i gatumiljö och fortsätter in mellan galleriets fyra väggar. Projektet kretsar kring de träspaljéer som sedan slutet av 90-talet dykt upp i långa rader längs utmed tunnelbanan. Träspaljéerna täcker även en stor del av stadens elskåp och mindre byggnader, och har sedan införandet också spridit sig till en del privata fastigheter. Syftet har varit att förhindra applicerandet av något visuellt förståeligt på ytan.
I utställningen ingår en stop motionbok som nu får release. Boken är tryckt i en limiterad upplaga om 300 exemplar och kommer erbjudas till vernissagepris 250 kr (kommer i handeln kosta 350 kr).
Varmt välkommen på vernissage fredagen den 26 oktober!
Utställningen pågår t.o.m. 22 november.
Öppettider
mån – fre 11:30 -18:00
lör 11:30 – 16:00
Jonas Sandström, gallerist
Kristoffer Ekman, curator
Tack till Grolsch.