KMHGIFCSGS av Hell [7DC F.UPS], 28:e Oktober – 18:e November, 2017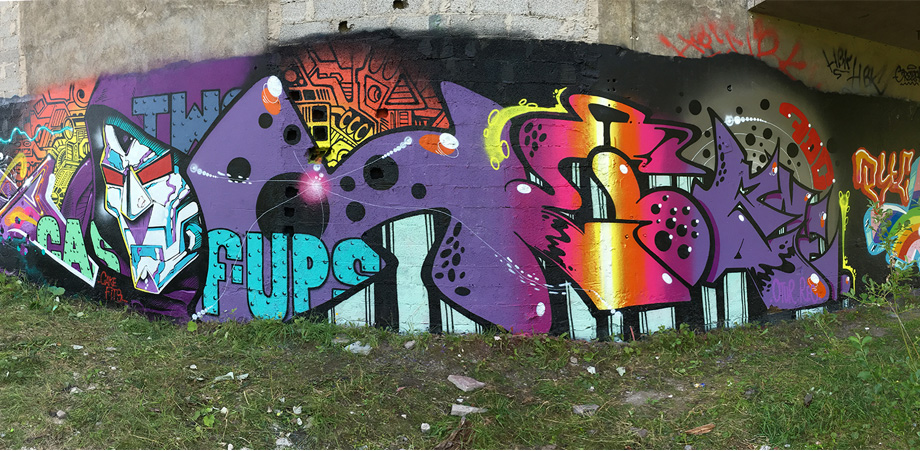 Highlights är stolta att presentera "KMHGIFCSGS" av Hell [7DC F.UPS], 28:e Oktober – 18:e November, 2017 (For English please scroll down).
Hell [7DC F.UPS], född och uppvuxen längs Södertäljelinjen söder om Stockholm, har målat graffiti sedan 1999. Hans stil är främst känd som karakteristisk och lekfull och har under de senaste åren tagits till ny nivå genom hans sätt att leka med dimensioner, illusioner samt förvärva in andra konstformer i den.
"Som yngre var Lois och Mean mina största insperationskällor, kanske inte stilmässigt men på sättet dom gjorde det på. När man åkte pendeln så var "all out kingsen" Rane, Mysu, Dne och självklart TSE Crew. Under alla år har jag främst inspirerats av crew-kamraterna och personer jag målar- och brukade måla mycket med; som Ellr, Whel, Alko, Cake, Dekis, Kiss för att nämna några. Men också allmänna saker i vardagen som färgkombinationer, mönster, former och andra slumpmässiga prylar som mitt undermedvetna plockar upp" 
I sin första soloutställning "KMHGIFCSGS" på HL Gallery får vi se sex av hans senaste alster där han använt sig av allt från blyertspennor och akrylfärger, till airbrush och torrpigment för att skapa och ta canvasgraffiti till en hel ny nivå.
KMHGIFCSGS är en förkortning för "Kvällen Man Hörde Golfapplåder Istället För "CSG, Stanna!". 
Varmt välkomna till vernissaget på HL Gallery, Lördagen den 28:e Oktober, 16:00-19:00.
Utställningen pågår t.o.m. Lördagen den 18:e November 2017.
HL Gallery
Öppet mån – fre 11:30 – 18:00, lör 11:30 – 16:00.
————————————————
English.
Hell [7DC F.UPS], borned and raised along the S-line south of Stockholm, has been painting graffiti since 1999. He's become famous for his distinctive and playful letter style and has in recent years started to take his graffiti to a new level, playing with dimensions and illusions, and incorperating other art forms into it.
"When growing up, Lois and Mean were my greatest sources of inspiration, maybe not in style but in the way they did it, and when traveling along the commuter line Rane, Mysu, Dne and, of course, TSE Crew were the all out kings. In recent years, I have mainly been inspired by crew mates and people I painted with/ or used to paint alot with; like Ellr, Whel, Alko, Cake, Dekis, Kiss, but also common things in everyday life like color combinations, patterns, shapes and other random stuff that my subconscious pick up"
In his first solo exhibition "KMHGIFCSGS", at HL Gallery, we get to see six of his resent works where he's been using everything from pencils and acrylic paints, to airbrush and dry pigments, to create and take canvas graffiti to a whole nother level.
KMHGIFCSGS is short for 'Kvällen Man Hörde Golfapplåder Istället För "CSG, Stanna!", Swedish for 'The night you heard golf applause instead of "CSG, Stop!".
Welcome to the opening at HL Gallery, Saturday October 28, 16:00-19:00. The exhibition will be up until Saturday November 18.
HL Gallery
Open Monday – Friday 11:30 – 18:00, Saturdays 11:30 – 16:00.